In the larger Sicilian towns, you will find all the usual chain stores, such as Zara and H&M. Still, the independent Sicilian stores and Sicilian markets are far more exciting places to shop!


The colorful open-air markets can evoke an Arab souk. Some of these markets are still on the same streets as in the 10th century, perfect to enjoy with all your senses. So many gastronomic delights you will find it difficult to stop buying! Although the best known are in Palermo and Catania, almost every town and neighborhood has its own "mercato" (market) held once a week.


Palermo
Palermo's markets are open every day except Sunday from 9 am. The entertaining atmosphere ends around 2 pm, but you can still find some stands open in the afternoon.

La Vucceria is the best known and most touristic market in Palermo. It extends from Piazza San Domenico to Via Roma, along with Via Maccheronai, towards Piazza Caracciolo and Corso Vittorio Emanuele, taking Via Argenteria. In addition to fresh food products, you will find household items and clothing.

Ballarò market extends from Piazza Ballarò, in the Albergheria district, along Via Ballarò, then from Piazza Carmine towards Corso Tukory. It is a popular market for locals every day.

The Mercato di Capo is located behind the Teatro Massimo and stretches from Via Porta Carini to Piazza Beati Paoli. It is the largest market in Palermo and sells a variety of products as well as groceries. The spices you can buy here make great souvenirs.

Borgo Vecchio is one of the oldest markets in Palermo. It is a kind of mini kasbah open late at night. It's a popular place to visit, especially among young Palermitans, before dinner or bargain hunting late at night.

Learn more about Palermo, its shops, and markets on our blog.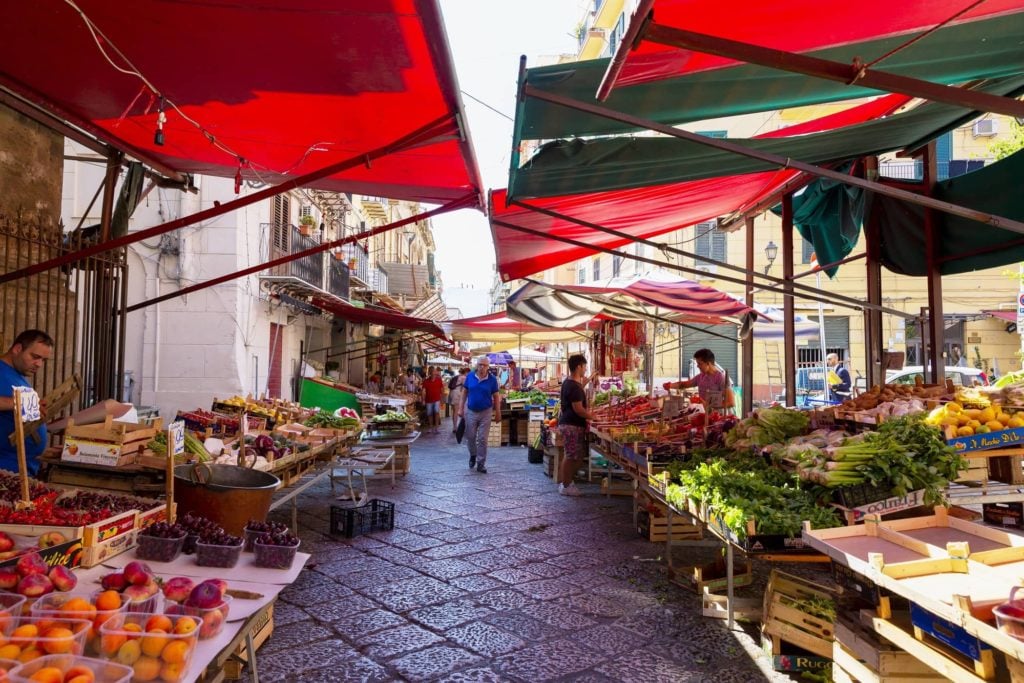 Although most Sicilian markets have a strong food component, a few markets specialize in other areas. One of our favorites is Palermo's flea market, the "Mercato delle Pulci," held around Piazza Peranni every day; or in Piazza Marina every Sunday. In addition to antiques and bric-a-brac, you'll find fine reproduction furniture and vintage shops.
Catania's markets take place every morning except Sunday.

The Piazza Carlo Alberto market is in a large square near Via Umberto and Corso Sicilia, easily accessible from Via Pacini near Via Etnea, near the Villa Bellini park.

The Pescheria ("fish market") is off Piazza Duomo, between Via Garibaldi and Via Pacini, and extends along Via Gemelli Zappalà and some surrounding streets. Catania's markets are closed on Sundays and most afternoons.