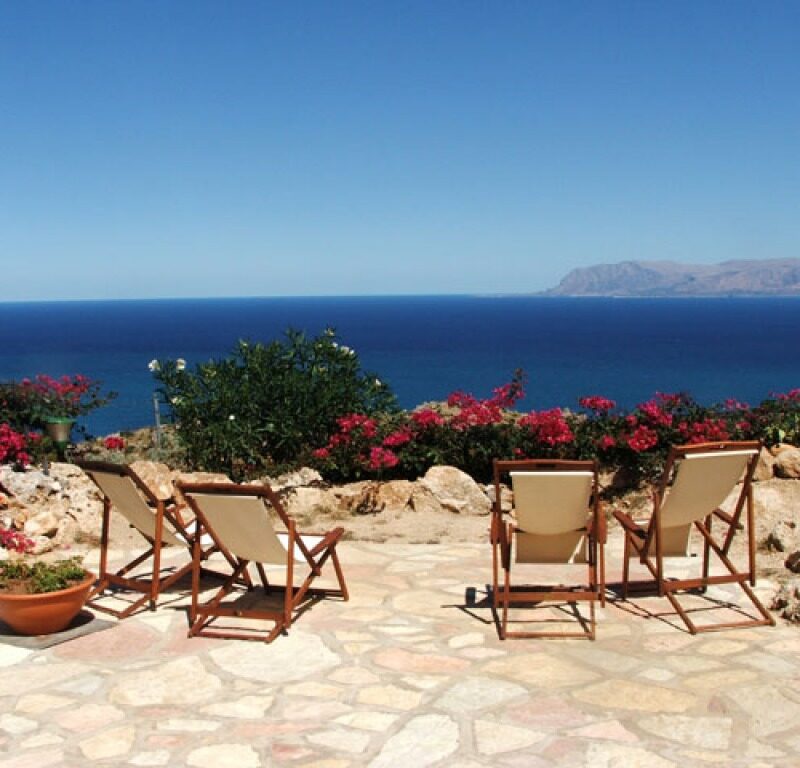 Authentic Sicily in B&B
Simplicity, contact with Sicilians, nature, trekking and hiking, friendly atmosphere, interesting villages and cities.
Recommended duration
15 days
Stopovers
Siracusa, Agrigento, Trapani, S. Agata Militello (Messina), S. Venerina (Catania)
Places of interest
This two-week tour through the authentic side of Sicily will allow you to visit villages, nature reserves, and places not very yet explored by conventional tourism.
Hospitality
The route consists of five strategically selected stopovers to have a complete vision of the island. You will find hospitality and a warm and friendly welcome at each stopover. Your hosts are at total disposal to provide detailed information on what to see and do in the area. We can organize various kinds of excursions on request in almost all stages.
Experiences
Different kinds of excursions can be organized on request at each stage.
Included in the price
Car rental, Accommodation, Breakfast
Authentic Sicily in B&B
The five stopovers
Siracusa
The Baroque of Sicily
Accommodation Description
In the first stage of this journey you will be immersed in the heart of the old town of Siracusa, Ortigia, where you can discover the treasures of this well-known town.The small hotel overlooks the sea and features 26 rooms spread over two 19th century buildings, originally inhabited by artisans and fishermen. The roof-top terrace is perfect to enjoy the view of the sea, or relax with a nice book or a fresh granita!
To see nearby
Noto, Modica, Ragusa Ibla and Scicli with their jewels of baroque architecture.

The necropolis of Pantalica and archeologic.al site of Cava Ispica

The natural reserve of Vendicari, Pachino and Capo Passero.

The fishermen village of Marzamemi.
Agrigento
The Splendors of Southern Sicily
Accommodation Description
After an initial impression of a big city like Palermo, we will take you to the second stay of your journey in the heart of the historical center of Agrigento, in a nice B&B, le Terrazze di Montelusa, accurately renovated and belonging to the family owner since 1822. You will be welcomed by the charme of Francesco, and if you're lucky, by a sonata of his piano!
Just a few steps away you can reach medieval and baroque churches, the prestigious Theatre 'Luigi Pirandello' and the Via Atenea, always been a place of shopping and strolling; the famous Valley of the Temples and the golden sandy beaches are located just a few kilometers from here.
To see nearby
Agrigento and the Valley of the Temples archaeological area Walking and hiking, with various levels of difficulty, around Sant'Angelo Muxaro.

Open-air museum and street art in Favara.

Caving trips in the area's natural caves.

A visit to the shepherds, with the incredible experience of "milking" your own cappuccino and enjoying warm, freshly made ricotta, taste the typical biscuits of Sant'Angelo o the "pane cunzatu" (typical Sicilian flavored bread) in a very old local bakery.
Trapani
Riserva dello Zingaro, Mothia and the Egadi
Accommodation Description
This is a strategic stop. Granveliero is a pleasant B&B located in the historic center of Trapani and ideal for those who want to experience life in a seaside city and at the same time, within a manageable distance, discover the surroundings of the westernmost tip of Sicily.
The B&B has been recently renovated and has some rooms and suites, but also many apartments with small cooking facilities. Every morning, in the breakfast room, you can enjoy a full breakfast consisting of typical sweet dishes, such as fresh 'cabuci trapanesi' with jam, and tasty dishes from this region, such as 'pane cunzato' with Sicilian tomatoes, 'primo sale' cheese, and olive oil.
There is also a small roof terrace from which you can enjoy a magnificent view of the city and the sea surrounding the Egadi archipelago. Two of these islands, Favignana and Levanzo, are also easy to visit by taking a day trip with a hydrofoil. It is worth it.
To see nearby
Selinunte and Segesta with their Greek temple and theater

Scopello and the magnificent Nature Reserve of "Lo Zingaro"

Trapani, Marsala (windmills and salt pans), and the island of Mothia excursions to the Salt Pan Nature Reserve

The unspoiled Egadi islands (Favignana, Levanzo, and Marettimo)

The medieval town of EriceThe medieval town of Erice at 13 km. You can also climb here with a chairlift

The Zingaro natural park at 48 km

he fishing village of San Vito Lo Capo - 37 km
S. Agata Militello (Messina)
The north of the island
Accommodation Description
The penultimate stopover of the tour is Sant'Agata di Militello, located in the northeastern region of the island, between Messina and Cefalù, in front of the Egadi Islands. Here you will stay in a friendly and welcoming B&B among the green hills of the Nebrodi Park, where beautiful mountain walks can be enjoyed – something unexpected in Sicily.
The small town of Sant'Agata Militello can be reached in a few minutes from the Giardino di Sicilia. Nestled between the Nebrodi Park and the Tyrrhenian Sea, it is not affected by mass tourism and is ideal for those who appreciate peace and quiet. It is also an ideal starting point for both nature and cultural excursions.
To see nearby
Palermo, with its Arab-Norman attractions.

Messina and Santo Stefano di Camastra, famous for its ceramics.

The splendid walks in the Nebrodi Regional Park.

The magnificent "Zingaro" nature reserve.
S. Venerina (Catania)
The land of Etna
Accommodation Description
The last region you will be preparing to visit is eastern Sicily, dominated by the imposing Etna. You will stay in this friendly accommodation, located on the volcano's slopes and not far from the sea. You can admire the spectacle the volcano has always offered its visitors.
Cesare (super Etna-expert) and his family will welcome you to this setting; they will be pleased to share their passion and love for their land. The farm covers 8 hectares and mainly produces citrus fruits, but it also has various types of fruits and vegetables for the family and their guests.
It is a small place, ideal for family holidays, cultural tourism, thalassotherapy, and hiking in the Etna nature park.
To see nearby
Catania and Mount Etna.

Taormina and Acireale.

Piazza Armerina, with its famous mosaics of Villa Romana del Casale.

Caltagirone well known for its ceramics.